Of course SureID has a mobile app for iPhone and Android! Who doesn't?
Actually, you might be surprised.
It seems the fingerprinting industry has been slow to adopt mobile. A marketplace search reveals a wide variety of apps for password management, some entertaining love and lie detector simulators, and a few designed to keep some things on your device secret.
Our app, however, stands alone in offering you registration and location information on a free mobile app.
Here's how it works:
Download the app.
We have iOS and Android versions available. The opening screen has instructions on how to use the app – it's pretty simple.


Capture your fingerprint registration.
Next, scan the QR code we sent you in your registration email, which looks something like this.
This code will pull up all your details at the fingerprinting location so you can review and update if you need to, and so the technician can verify your identity.
Find a location.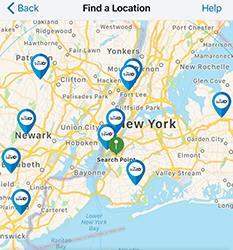 You can also use the app to locate a UPS store near you that has a fingerprinting station. The app's map provides store information, too, so you can make sure the store is open and call if you have questions.
You can launch your favorite navigation app straight from the map, too.
Get Fingerprinted!
Now, all you have to do is bring your mobile device and your IDs to the fingerprinting location, pull up your registration with the code you saved, and work with the technician to capture your prints. Our app even tells you what kind of IDs you can use.
We'll be adding functionality to this app that makes sense for the people using it, so please let us know what you think and what you'd like to see added. As always, you can reach out to our Support team at 844.787.3431 or support@sureid.com, or you can send us feedback through the app itself.  We look forward to hearing from you.