Fingerprinting that's Convenient, Safe, and Fast
Fingerprinting
Capturing fingerprints can be convenient, safe, secure, fast, and appointment-free. The Sterling Identity fingerprinting process provides the best possible customer experience, with most results returned in less than an hour.

Whether you're an individual wanting to capture your fingerprints or a business
wanting to fingerprint candidates or employees, Sterling Identity can help.
Individuals
Business
85% of fingerprint-based reports ordered through Sterling Identity are returned in less than 10 minutes.
1

Securely capture fingerprints
Our Identity Network provides secure, modern facilities for people to capture and submit their fingerprints. Hundreds of network locations span all 50 states and Washington, DC.
2

Store and transmit data
Sterling Identity meets strict government standards for biometric data storage and transmission to ensure that private data remains private.
3

Deliver results
Sterling Identity delivers FBI records as soon as they are received, often within minutes.
Smart Technology Makes Fingerprinting Simple
Getting your fingerprints taken can be daunting. Most of the systems that capture electronic fingerprints tend to be outdated, and the interface isn't always intuitive. Often, you can't even navigate the system yourself!
That's why we designed our system to be simple, modern, and intuitive. We used the latest touch screen, camera, and fingerprint scanner technology to build the Identity network kiosk you'll visit to capture and submit your fingerprints. The system also provides immediate feedback on print quality, so you can be sure you capture the best prints possible before submitting them.
Easy to Use
We designed our technology to be simple and intuitive. The system walks you clearly through every step you need to take, and the touch screen interface is as easy to use as your smart phone. Our fingerprint scanner uses the latest technology to capture your prints accurately. Finally, trained technicians are available to help with fingerprint capture, and we've included on-screen instructions and video tutorials where they're needed.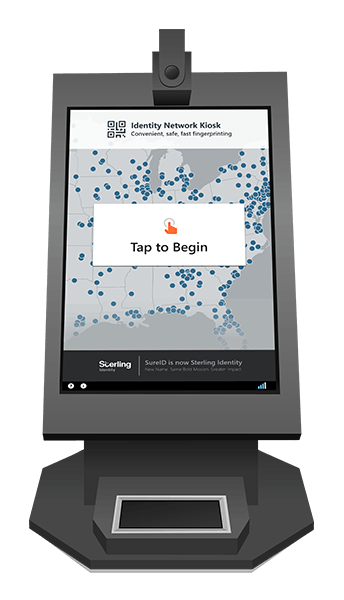 Smart, Fast Results
You don't have to be a fingerprint expert to get good prints with Sterling Identity technology. We've built in immediate feedback on the quality of the print based on FBI-compliant standards and will let you know what needs to change for your prints to be accepted. Many people get their prints done in 5 – 10 minutes.* And our average turnaround time for a Criminal History report from the FBI is less than 10 minutes for electronic delivery.
*Approximately 2% of people cannot capture good prints electronically, so if you have difficulty, please reach out to our Support team.
Outstanding Security
As a company that grew out of serving military and government locations, we take security seriously. All information you provide is encrypted and securely transmitted where it needs to go. We verify your identity at multiple steps, and we provide safe, secure locations for the fingerprinting process itself. All FBI records are securely delivered, so only the appropriate person can access them.
The Most Innovative Fingerprint Network in the U.S.
At Sterling Identity, we've partnered with a single source of retail business service centers to build the most convenient and professional fingerprinting network in existence. Nearly 700 cities across the country in all 50 states and DC already have fingerprint locations available, and we're growing every month.
Over 75% of the US population is within a 30-minute drive of a Sterling Identity fingerprinting location. You can find us in major city hubs and suburbs, smaller towns, malls and shipping locations, and more.
The retail business service centers we use provide safe, secure, and professional environments where people's fingerprints can be scanned electronically – no ink and paper required. Their associates can help individuals locate the Identity Network Kiosk, get started, and capture the best fingerprints possible.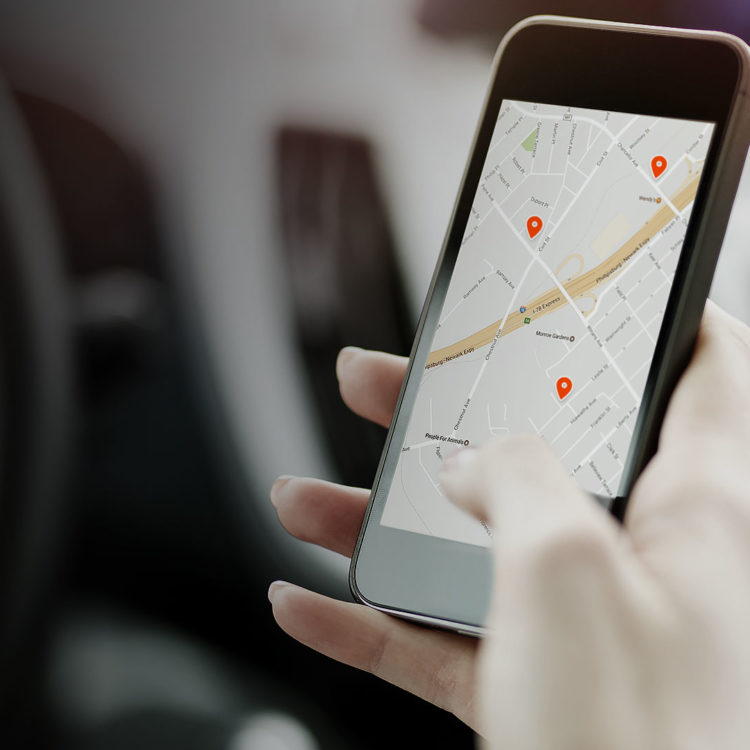 Coverage = Convenience
When we planned our Identity Network, we asked individuals and organizations what they wanted in a fingerprint provider. More than anything, people wanted convenience.
That's why we chose a single location partner with helpful neighborhood locations located in urban and rural areas, often in places you already visit. With nearly 800 active stations in locations already (and more on the way), we help you work your fingerprinting needs into a busy schedule.
Security = Comfort
People also told us that the fingerprinting process was daunting. Often, they had to visit police or other enforcement agencies to get their prints taken. And when they didn't, they worried that their personal information might end up in the wrong hands.
We chose our location partner carefully to offer the comfort and security you want. You'll find our Identity Network Kiosks in professional environments with trained personnel, and we keep your information secure from registration through delivery.
Not sure which product is right for you? Answer a few questions to find the perfect product!
Key Features and Benefits
The most modern fingerprinting capture on the market

Trained and certified technicians

Military-grade security to protect sensitive personal data

Fastest results, usually delivered in minutes

Best and most responsive customer support in the industry